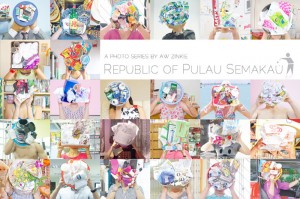 For more, please see: https://www.facebook.com/republicofpulausemakau/
[Previously SG magazine] https://bk.asia-city.com/events/news/youll-never-look-your-trash-same-way-again
---
The things we throw away tell much about who we are.
Dustbins are, essentially, a part of one's personal space, almost akin to a type of 'identity autopsy'.
Through photographs of trash and their environment, viewers are exposed to things owned and disowned by different people.
Pieced together, this body of work anchors to issues of waste management in Singapore — to realise things that we as individuals discard, will collectively contribute to Singapore's only landfill on the offshore island of Pulau Semakau.
In 1999, after having exhausted the landfills on mainland Singapore, Singapore then created a Semakau landfill by enclosing Pulau Semakau and a small adjacent island with a rock bund.
In this light, we, could all be considered 'Founders' of this reclaimed portion of the island.
It has never occurred to us where all these rubbish end up in land-scarce and over-populated Singapore.
Hopefully these dustbins will form a reality check for all of us.
Zinkie Aw, 2012 (Singapore)
Thank you all those who helped on this project and the friends I've made along the way.
---
This series has been featured on:
24 Feb 2016: SG Magazine; <https://issuu.com/sg_magazine/docs/sgmagazine_695>
Dec 2015 : SG Now, <http://sg.asia-city.com/events/news/youll-never-look-your-trash-same-way-again>
Oct-Nov 2014: National Museum, Stamford Gallery. Also presented Artist Talk in the same Festival. Part of Singapore International Photography Festival 2014.
Mar 2014 Feature: The People's Association My Neighbourhood Gems: Rubbish Photography For The Environment
Nov 2013: The Sunday Times Magazine, UK: 2pp Feature under 'Spectrum' Also featured in digital version.
Jan 2013: The Curious Brain: The Curious Brain
Jan 2013 Magazine: CATALOG magazine (Singapore) with other Noise SG participants
03 – 04 Nov 2012 Showcase: Gardens by the Bay, The Meadows, SINGAPORE, as part of the Clean and Green Singapore (2013) exhibition and installation by Ministry of the Environment and Water Resources (MEWR)
24 Aug 2012 Feature: Wall to Watch
06 Jul – 27 Jul 2012 Showcase: Group Exhibition at 5footway.inn, Atelier, SINGAPORE
24 May 2012 Feature: Encountering Urbanization: Confronting the experiment – and experience – of urbanization. Article: City Beautiful: Understanding Art, Understanding Singapore
15 May 2012 Feature: xinmedia.com: 廢物?藝術!時間無法分解的生命反思
13 May 2012 Feature: Culturepush tracks cool stuff in art, culture and design in Singapore.
《 L a V i e . 漂 亮 》MAGAZINE: May 2012 No. 97 (Taiwan): A specialsed fashion, lifestyle and design, architecture magazine.
30 Apr 2012 Magazine: Weekend Weekly 第660期《新假期》Hong Kong.
05 May 2012 Feature: DAILY BLOG PHOTOGRAPHER – AW ZINKIE /
The online fashion magazine that showcases new emerging talent alongside the established.
14 Mar – 29 Apr Showcase: Exhibition at CrazyWorld Cafe, SINGAPORE
03 May 2012 Feature: http://1800recycling.com/2012/05/strike-pose-waste-portraits-unflattering-view-consumerism/
11 Apr 2012 Feature: Freshgrads.sg, Singapore. A lifestyle and career advancement portal for graduates with fresh ideas!
02 Apr 2012 Feature: Karmaloop Blog, Boston.
30 Mar 2012 Feature: 放泥就可 – fun way to get inspired.
丟什麼像什麼,和你的垃圾桶合照的攝影作品
30 Mar 2012 Feature : Incrediblethings.com, 'If it's incredible and it's on the web, we'll cover it. Our seamless mix of concept designs and (actual) awe-inspiring products results in a vivid bazaar to be enjoyed as you wish.'
28 Mar 2012 Feature: 宅宅新聞
27 Mar 2012 Feature: niusnews [垃圾臉譜]
21 Mar 2012 Feature : PetaPixel, a blog about photography geared towards tech-savvy photo-enthusiasts.
21 Mar 2012 Feature : Arthouse blog by www.sebastiancollier.com
21 Mar 2012 Feature : With 37,000,000 monthly views, TrendHunter.com is the world's largest, most popular trend community. (Toronto, Canada)
21 Mar 2012 Feature : PSFK, the go-to source for new ideas and inspiration for creative professionals.
19 Mar 2012 Feature : Flavorpill covers cultural events, art, books, music, and world news. 'With land scarce and a growing population, Aw's work forces viewers to consider their own output in a disposable world.'
16 Mar 2012 Feature : Trends now, online magazine focused on current trends in the fields of design, graphic design, fashion and innovation
16 Mar 2012 Feature : Fubiz.net, a site for graphic, urban culture, trends and digital arts inspiration
14 Mar 2012 Feature : everydaytrash.com, blog that examines the art and politics of the world through the lens of garbage
13 Mar 2012 Feature : French blog, ufunk.net
09 Mar 2012 Feature : TogTech, photography gadget blog (Norway)
08 Mar 2012 Feature : CMYBacon.com (New York)
06 Mar 2012 Talk at Platform: http://www.facebook.com/events/112749438852259/
28 Feb 2012 Feature : designboom, based in Italy, Milan
22 Feb 2012 Newspaper : Lianhe Zaobao, print press, Singapore
20 Feb 2012 Feature : Invisible Photographer Asia
16 Feb – 4 Mar Showcase: Group Exhibition at Goodman Arts Centre, SINGAPORE
---