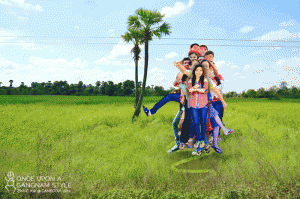 Gangnam Style' – is the world showing any signs of overdose yet? Apparently not.
Welcome to my confession regarding an overdose of Gangnam.
Many people, many countries, but one Gangnam Style.
---
Project Backdrop:
I travelled from Singapore to Cambodia in December 2012. Took strolls down the streets, and I couldn't help but experience how the overwhelming and famous Gangnam Style has manifested in Phnom Penh, Siem Reap, and Battambang. Towards this phenomenon, I felt amused, amazed, as well as slightly disturbed.
Through my 2-week trip, there were overt instances of this pop culture icon, or trend in the night markets. T-shirts and paraphernalia with Psy's illustration were sold; along rivers, groups of teens dance to the song… even for celebrations on stage, my ears and eyes were not spared.
It then struck me that the 'Gangnam Style' has become an icon of this big globalisation era. In a context where the world is seemingly held together by the Internet, tastes and preferences, ideas and styles seem to be an amalgation or adoptions of each other. Various parts of the world follow to import global trends – in this case, the 'Psy'-nomenon. Of course, many would argue it as just commercialisation.
Other than wanting to exemplify and time-stamp this phenomenon that occured in 2012, the Gangnam Style syndrome became something more compelling to photograph, after I started chatting with some locals there.
While travelling in Cambodia, I found this particular Gangnam Style worked as a 'Culture Cushion' for the mild 'Culture Shock' I experienced as a tourist.
Forget the language barrier already. Paired with a simple inflexion, the use of three simple words 'You Gangnam Style?' seemed to be conversation-openers, and very effective buzzwords.
If the world were one unified Psy-chotic tribe in 2012, this would be the universal 'Hello'.
So I decided the photographing process would be a social experiment of sorts. At times, I could be asking for directions… or maybe I was going to bargain for something… and maybe someone tried to tout something… It was true: the 'Tourist vs. Locals' barrier backed down by half once I digressed to ask if they knew 'The Gangnam Style'.
I didn't know the Cambodian language; neither did the locals they know much English, but we understood each other at 'Gangnam'.  This magical chant brought me closer to the locals.
As remembrance, I wanted to via photographs, preserve this brevity of friendship (matchmade by Gangnam-ania).I prompted the friendly locals to pose me a scene of what they remember of 'Gangnam Style', and I would photograph them.
They could be alone, or in their various social groups — the Cambodians obliged with glee. From the city to the village, you would find that their moves are perfectly, so signature-Psy.
And sometimes I stepped into the scene to be with them: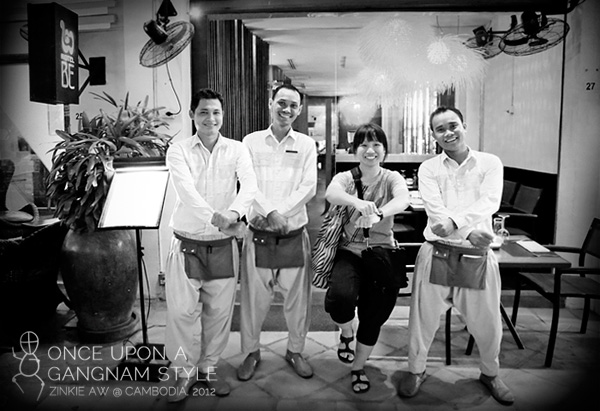 That lead me to ponder: But if it was the same 'culture' – the same music video, the similar MTV channels that we watch… why should I expect less that these Cambodians would know this Psy-nomenon too?
What each of us understood to be the intent of Psy's music video could be 'same same but different'; the buzz and hype is cross-cultural. But in all likelihood, none of us never really understand the true intent behind The Subversive Message Within South Korea's Music Video Sensation, except Psy the man himself. Cambodian or Singaporean, no matter how we identify with the rhythm and dance steps, these might all just be the tip of the iceberg; or most of us just could actually be totally missing the point of the video.
Eventually this 'imported (Gangnam) symbol' just gets subsumed accordingly in various cultures. The Gangnam takes on its own meaning for Cambodians, Singaporeans, Americans etc...
Lastly, these photographs also remind me about how K-Pop and its culture seems set to reign. Will we then have a standardised, global formula for 'trendy', but a local culture that is 'diluted'?
And so you thought year 2012 have had enough of Gangnam Style.  But no, it's a changing world, it's one big Psy-ched up world. Thank you and we can look forward to more unification of Gangnam in 2013.
Happy (Gungho) 2013! (This project was released 01 Jan 2013.)
Zinkie Aw, 2012 (Singapore)